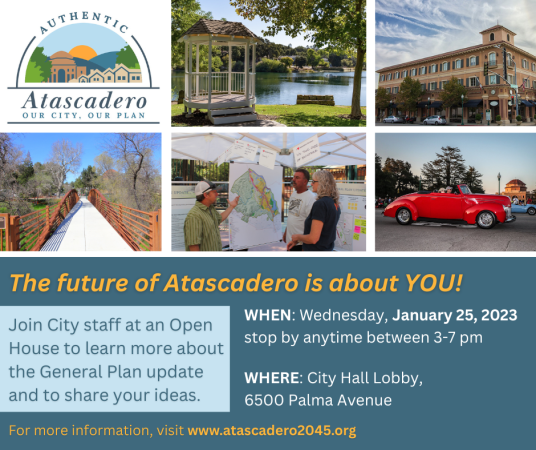 Open House Workshop
Jan 17, 2023 at 3:00pm
Join the City and help us plan our future together on January 25! Stop by anytime between 3:00-7:00pm.
The City of Atascadero will be hosting an Open House Workshop to plan our future together and identify assets and opportunities that will be factored into the General Plan Update process. Every voice matters in shaping decisions about how Atascadero will plan for economic growth, enhanced mobility, new housing, and environmental resiliency for the next 20+ years.
These interactive workshops offer community members the opportunity to:
Learn about the General Plan update process and its importance for the City's future
Review the early research findings and key considerations developed from initial research and analysis
Share their Vision for Atascadero
Discuss Atascadero's assets and challenges, together with ideas for change
Identify ways to stay involved in the project
Open House Workshop
When: Wednesday, January 25, 2023. Stop by any time between 3:00 pm and 7:00 pm.
Where: City Hall Lobby, 6500 Palma Avenue
Join the City and help us plan our future together!