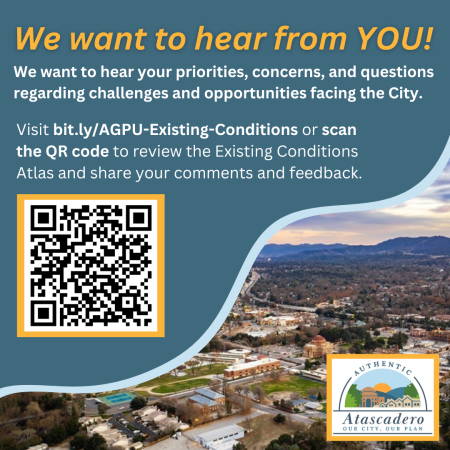 Comment on the Existing Conditions Atlas
Feb 8, 2023 at 5:00pm
The Existing Conditions Atlas is now accessible in a virtual commenting platform for community review and feedback. We want to hear from you!
Visit bit.ly/AGPU-Existing-Conditions to access the Existing Condition Atlas which summarizes current conditions in Atascadero and outlines some initial opportunities. This is the same Atlas that was shared during the Open House sessions hosted at City Hall on January 24th and 25th.
Please review and use the comment tool to share your priorities, concerns, and questions regarding challenges and opportunities facing the city. In the platform, you can place a comment anywhere on the document. There are also a series of questions (in blue boxes) to get you thinking about the different challenges/opportunities and potential tradeoffs.
Join the City and help us plan our future together! We appreciate and welcome your participation in this important process.